Deaths, injuries after shooting at Las Vegas music fest near Mandalay Bay Casino 
Live updates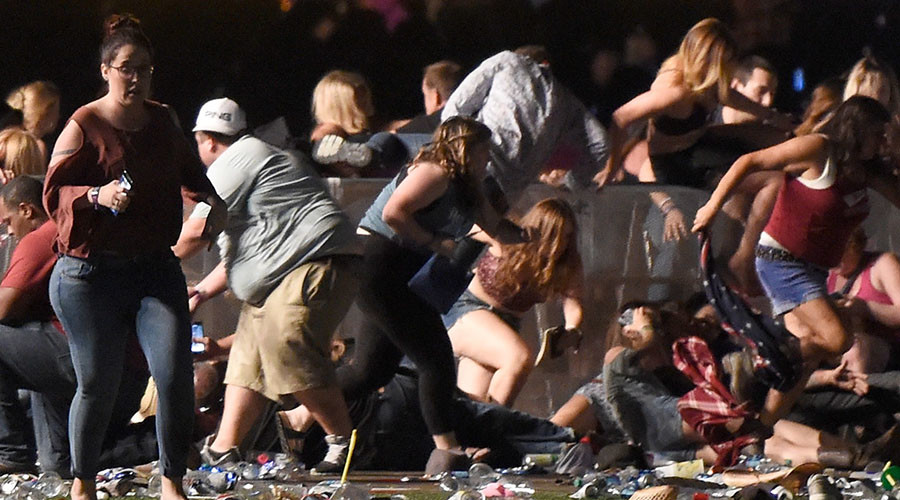 More than 50 people were killed and more than 200 injured in a mass shooting during an open-air music festival in Las Vegas, near the Mandalay Bay Resort and Casino on Sunday night.
02 October 2017

11:18 GMT

US President Donald Trump has expressed his "warmest condolences and sympathies" following the shooting.

My warmest condolences and sympathies to the victims and families of the terrible Las Vegas shooting. God bless you!

10:49 GMT

Lombardo also said the two vehicles that authorities were searching for have been located, and that law enforcement is "confident, but not 100 percent sure, we have located the female person of interest," referring to Marilou Danley.

We have located the vehicles in question, and we are confident we have located the female person of interest.

10:45 GMT

Sheriff Lombardo says the number of people killed is more than 50, with over 200 others injured.

At this time there is in excess of 50 deceased and over 200 injured individuals.

10:44 GMT

Clark County Sheriff Joseph Lombardo has confirmed the suspect as Stephen Paddock, Reuters reported.

10:13 GMT

The Las Vegas shooter has been identified as 64-year-old Stephen Paddock, NBC News journalist Pete Williams reported, citing "several investigative agencies." 

Authorities are now searching Paddock's house in Mesquite, Nevada, he added.

10:06 GMT

Authorities are searching for a "companion" of the shooter, an Asian female by the name of Marilou Danley.

"We have not located her at this time and we are interested in talking to her for follow-up," Clark County Sheriff Joseph Lombardo said during a press conference.

Marilou Danley is being sought for questioning re the investigation into the active shooter incident. If seen please call 9-1-1!

09:37 GMT

British Prime Minister Theresa May says the UK's thoughts are with the victims of the "appalling attack."

"The UK's thoughts are with the victims and the emergency services responding to the appalling attack in Las Vegas," her office tweeted.

PM – The UK's thoughts are with the victims and the emergency services responding to the appalling attack in Las Vegas.

09:33 GMT

Two off-duty police officers were killed in the attack, Clark County Sheriff Joseph Lombardo confirmed, according to AP.

A third off-duty officer is in a critical condition, and a fourth was wounded.

09:21 GMT

Freeways have been reopened for thru traffic. However the OFF RAMPS heading eastbound are CLOSED from Sahara Ave. to Russell Rd.

08:40 GMT

The attack in Las Vegas has claimed the lives of more than 20 people and left more than 100 injured, according to police. The suspected shooter has died after the attack at a concert near Mandalay Bay.
02 October 2017

08:00 GMT

Limited flight activity has resumed at @LASairport. Please monitor flight status with your airline. Expect on going delays.

07:35 GMT

Facebook has responded to the incident by creating a crisis response page for people to mark themselves safe.

Facebook has activated a crisis response page to let people know you are safe if you are in #LasVegas http://rjnews.is/2wsYsUr 

Crisis Response: The Violent Incident in Las Vegas, Nevada

You can check on friends in the affected area or mark yourself safe using Safety Check.

facebook.com

07:32 GMT

Police believe that there are no more shooters.

At this time we do not believe there are any more shooters. More information to come shortly from @Sheriff_LVMPD.

07:22 GMT

University Medical Center spokeswoman Danita Cohen told AP 26 people had been admitted to the hospital, of whom 12 are in critical condition.

Images from the active shooter scene so far around Tropicana and Las Vegas Boulevard #RJnow

07:19 GMT

Las Vegas mayor Carolyn Goodman has responded to the attack by saying "pray for Las Vegas."

Pray for Las Vegas. Thank you to all our first responders out there now.

07:09 GMT

The shooter appeared to be using an automatic weapon, according to witness reports.

"There was blood everywhere," one witness said.

"People were hit within 20 feet of us," witness Rick Messick, who said he was in the front row of the concert, told CBS2.

"There were several people laying in the parking lot … they were trying to stop the bleeding," he added.

07:00 GMT

The police have said that one suspect is down and they are actively investigating.

Confirming that one suspect is down. This is an active investigation. Again, please do not head down to the Strip at this time.

06:52 GMT

Some flights destined for @LASairport were diverted due to police incident. Please check with your air carrier if flying/picking up tonight.

UPDATE: Flights in and out of @LASairport have been temporarily halted in response to reported shooting incident on Las Vegas Strip.

06:51 GMT

At least two people have been shot dead and 24 more people are currently in hospital in Las Vegas with suspected gunshots wounds, a hospital spokesman said as cited by Reuters.
02 October 2017

06:51 GMT

Please do not livestream or share tactical positions of our officers on scene. This may put emergency responders in danger.