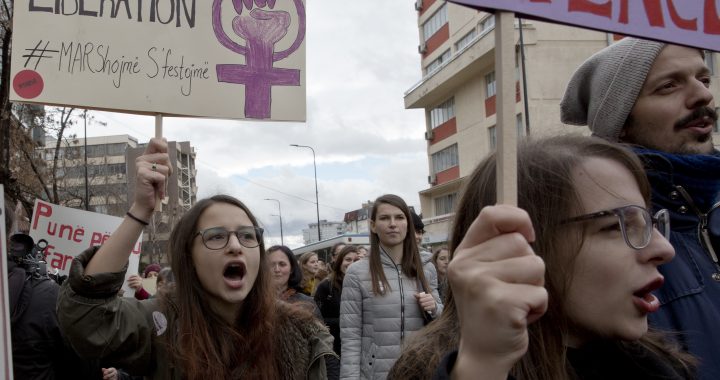 Women's shelter at risk due to electricity bill
A shelter for women affected by domestic violence in Prishtina is threatened with closure as a result of lack of funding, putting them more than 7,000 euros in debt to the Kosovo Energy Distribution Service, KEDS.
The Center for the Protection of Women and Children in Prishtina has reported that it may close because of an outstanding debt of over 7,000 euros to the Kosovo Energy Distribution Service, KEDS. The electricity supply company has already forwarded the case to an enforcement agent.
Zana Asllani, director of the center, told BIRN that they did not carry out the payment to KEDS because of the lack of funding.
"I am aware that the debt has to be paid, but we were awaiting a response from KEDS to change the tariffs from business to household expenses," Asllani said.
She said that the only support the shelter receives comes from the Ministry of Labor and Social Welfare, which covers 50 per cent of the shelter's expenses. Registering as a household would reduce the cost of electricity that the shelter would be required to pay.
Asllani told BIRN that this shelter should function as a household and not as a business, because it is a non-profit organization offering services for individuals affected by violence. She sent two requests to KEDS, but both were rejected.
"We have addressed two requests to KEDS to turn the business tariff to a household tariff, but the responses were that the change is not possible. The reasoning was that all registered organizations pay expenses as a business," she said.
Asllani said that the region's municipalities are responsible for the situation, who she has also asked for help.
"Every institution deflects responsibility from itself. In reality it [responsibility] should lie with municipalities of the Prishtina region, whose citizens we offer services to, [they should] at least participate somehow," Asllani said.
She said that the center will not shut down, but there is a possibility that, from this time forward, they will not be able to give shelter to any more women and children.
KEDS spokesperson Viktor Buzhala told BIRN as well that the type of tariff cannot be changed for the shelter.
"The Law on Electricity clearly defines the status of household and non-household customers: a 'household customer' is a consumer who buys electricity for personal consumption, whereas a 'non-household consumer' is a consumer who buys electricity and does not use it for family needs," Buzhala said.
He added that the shelter has a total electricity debt of 7,451 euros.
Regarding the shelter, BIRN also contacted the Municipality of Prishtina to ask about whether they have offered financial support to the institution.
Miranda Mullafazliu, spokesperson of the municipality, said that they have offered as much of their budget as was possible – 500 euros.
"Due to the shelter's debt, the municipality allocated 500 euros as a subsidy for the problem. As a municipality, we gave this subsidy of 500 euros precisely to prevent cutting off of electricity. This is our possibility and budget," Mullafazliu told BIRN.
Last week, a coalition of women's rights organizations in Kosovo wrote a letter to the Kosovo assembly, addressing the lack of funding allocated to women's shelters in the proposed 2019 budget.
"It has come to our attention that the draft budget for 2019 currently does not fully cover the costs of shelters for women and children that have suffered domestic violence," the letter reads. "We strongly urge you to make changes in the budget, with the purpose of ensuring security and wellbeing of women and children, in accordance with constitutional obligations and legal responsibilities in Kosovo."
The letter requests that each of the shelters in Kosovo receive at least 60,000 euros annually, to cover costs related to medicine, food, clothing, facility maintenance, transport, communication and staff salaries.
Kosovo Police reports document that more than 400 women and children who are victims of domestic violence and trafficking have benefited from the services provided in Kosovo's shelters.
In January, eight of the nine institutions which provide shelter to women and children fleeing domestic abuse in Kosovo closed temporarily after government funds for January and February were delayed. The government allocated emergency funds to keep the shelters afloat in mid January, but the institutions, which are run by local NGOs.