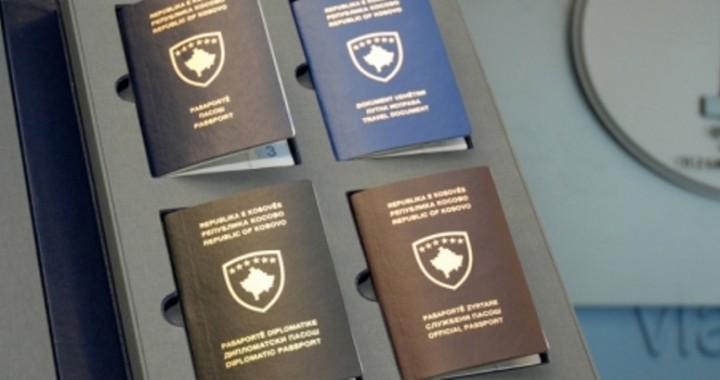 Disappointed with the lack of free movement of Kosovo citizens, Kosovo MP and singer Labinot Tahiri today handed his passport over to the Civil Registry Agency.
Labinot Tahiri, a member of parliament from The Alliance for New Kosovo, AKR, handed over his passport symbolically protesting the continuation of the visa regime for Kosovars who seek to travel to countries in the Schengen zone.
Kosovars remain the only citizens in the Western Balkans that do not have free access to travel to the 26 European countries participating in the Schengen agreement.
Tahiri promised to hand over his passport in November last year if the visa regime was not lifted. "I will not travel out of Kosovo because of the disappointment I feel as a deputy, where Kosovo citizens cannot enjoy free movement," he said.
Tahiri's party, AKR, is part of the ruling government coalition, whose officials lead up crucial ministries including the Ministry of Interior, which issues passports to Kosovo citizens. AKR was part of the government from 2011-2014, when Kosovo first received its roadmap for visa liberalization.
Securing visa liberalization for Kosovo has been a longstanding promise by local politicians, including Tahiri's party.
In March 2018, Kosovo Assembly ratified its border demarcation agreement with Montenegro, which was one of the two remaining criteria set by the EU to secure the visa-free regime, alongside the improvement of combating corruption and organized crime.
However, EU officials have continuously demanded a serious fight against corruption as part of Kosovo's EU integration scheme. It is uncertain whether Kosovo will successfully attain access to the Schengen zone for its citizens even this year.
In September, the European Parliament voted to approve the launch of negotiations between EU bodies for Kosovo's visa liberalization. However, no further progress has been made by EU institutions on an acceptable package for the country's visa-free regime.
Tahiri's move follows a protest by Prishtina citizens in December, who "imposed a visa" on European Commissioner Johannes Hahn, symbolically expressing their dissatisfaction with the progress of the visa liberalization negotiations.
Tahiri explained that in his passport he had visas for both Germany and the United States. Giving up his passport would seemingly prevent him from travelling out of Kosovo for official trips, or for his musical concerts abroad for Kosovo diaspora.