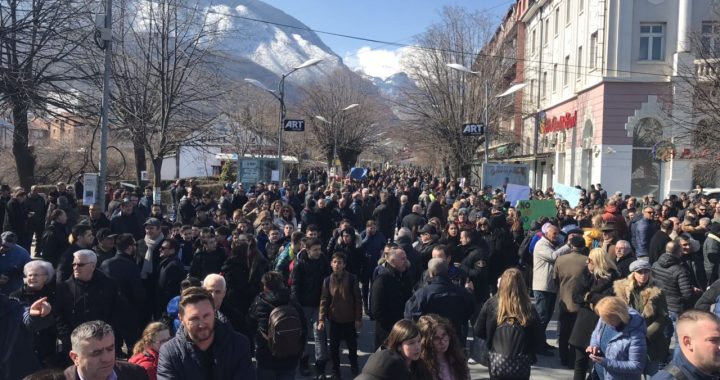 The Prime Minister has blocked construction of a new hydropower plant following mass protests in the west of the country, objecting to the likely environmental impact.
Kosovo Prime Minister Ramush Haradinaj has ordered an immediate halt to the construction of a hydropower plant that would be placed in seven different locations on the Lumbardhi River in Peja.
The decision came after thousands of citizens, environmentalists and civil society members protested on Monday in Peja, claiming the project will damage the river that passes through the Rugova national park.
"After the protest and legitimate concerns from the representatives of Rugova residents about the hydropower plant in Lumbardhi … I have demanded an immediate halt to further procedures until a clear and comprehensive overview of the impact and scale of this project on the environment has been done," Haradinaj wrote on Facebook.
"Projects that are in conflict with the interests of the residents of the Rugova area will never pass," he added.
Agron Nikci, a representative of local residents, protesting under the slogan "Do not touch Lumbardhi", said on Monday that they should not allow "the destruction of the beauty that Lumbardhi gives to this region".
"We don't need any kind of energy without our spiritual energy," said Veton Mujaj, a representative of local civil society groups said.
Plans to construct the plant were revealed on February 19 at the Inter-ministerial Committee for Strategic Investments.
There it was stated that proposals presented by the Kelkos Energy firm fulfilled the technical criteria to be considered a strategic investment project.
The following day, last Wednesday, the Mayor of Peja, Gazmend Muhaxheri, wrote to Endrit Shala, the Minister of Trade and Industry, expressing concerns.
In the letter, Muhaxheri pointed out that the Peja Municipal Development Plan prohibits any investment in hydropower due to the risk of the plants damaging the environment in the neighboring municipality of Decan.
Kelkos Energy is part of the Austrian energy group, Kelag, which is engaged in similar projects across several ex-Yugoslav states.
The company's engagement in energy projects has drawn sharp criticism and strong community resistance in the region.
Issues over the construction of power plants have previously arisen in other parts of Kosovo, especially in the Sharri National Park.
The most recent problems occurred in Strpce Municipality, where citizens protested against the building of an power plant in January.
Hydropower is the country's primary renewable energy source, but many potential locations for such plants are in nature reserves and parks.
Attempts to harness the power of rivers in them can cause "a lot of problems," according a researcher at Balkan Green Foundation, Besfort Kosova, "particularly with rivers disappearing into tubes and communities being robbed of their water for agriculture and other uses," he told BIRN earlier this month.