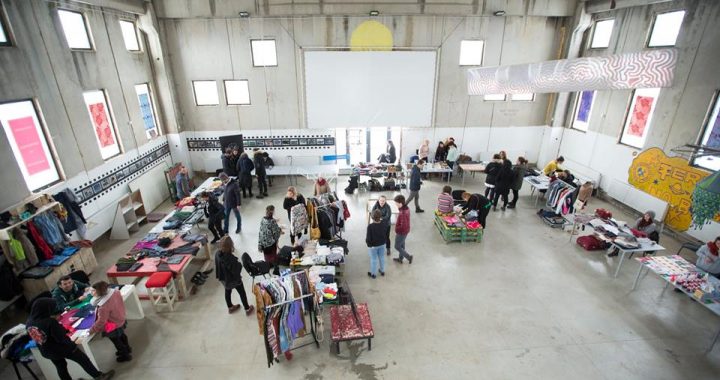 Photo courtesy: Termokiss.
by Eva-Anne Travers
Prishtina-based social and cultural center Termokiss is hosting a market on Sunday to raise funds for domestic violence shelters in Kosovo, in response to the lack of state support for protection of women and children.
Selling clothes, books, accessories, household essentials and other assorted knicknacks, a flea market will take place at the Termokiss building in Prishtina on Sunday, where people can set up stalls and donate the proceeds they make to provide assistance to the domestic violence shelters in Kosovo.
Termokiss first opened in July 2016, when a group of young people transformed an unfinished concrete structure in Prishtina, originally built for heating company Termokos in 1997, into a social and cultural center. Other than hosting flea markets, It aims to create an open space for urban and civil exchange, reflection and social change making through events, workshops and exhibitions.
Erleta Morina, a community organizer from Termokiss, explained why members of Termokiss felt a duty to contribute and raise money for the domestic violence shelters.
"Domestic violence shelters in Kosovo are frequently underfunded," said Morina. "The Ministry of Labour and Social Welfare is responsible for providing annual funds for shelters, but these funds are insufficient and frequently don't last for the entire year. The lack of state support leads to shelters relying on international donors, many of whom do not set aside funding for this type of NGO."
The shelters, which are located in eight different municipalities across Kosovo, provide a space for the protection of women and children who are survivors of domestic and gender-based violence. The shelters have been beset by issues related to funding, general maintenance and paying their staff in the last year, relying on private donors and fundraising activities from citizens.
In January 2018, domestic violence shelters across Kosovo were forced to shut their doors, only reopening following the allocation of 65,000 euros of emergency funding by the government a few days later.
"The consequences of this struggle are serious and often tragic. Many shelters across Kosovo are closing down due to this lack of funding," Morina said. "This leads to domestic violence victims either ending up on the street, or returning to the perpetrators of violence. The latter can result in repeated violence and even death."
In December 2018, a shelter in Prishtina was threatened with closure once again. Their lack of funding put them over 7,000 euros in debt to the Kosovo Energy Distribution Service, KEDS, for inability to pay the shelter's electricity bills.
Members of Termokiss decided to organize this flea market directly in response to the recent funding problems. This is the first time that a portion of the profits from these markets, which Termokiss hosts once every month, will go to a charitable cause.
"The idea of flea markets is for them to play the role of an open bazaar, where we provide a space where people sell their belongings," said Morina. "People will be able to buy clothes, books, lamps, bags, porcelain figures, to mention a few, whatever they want to sell."
Morina explained that those selling their items at the market are free to choose how much of the money they make will be donated to the shelters.
"It is open for everyone to donate as much as they want from the profits they make," she said. "However, there will be several stands that are fully dedicated to raising funds for this cause, and will thus donate 100 per cent of what they profit."
While Morina believes that the domestic violence shelters should be funded fully by the state, she said that organizations such as Termokiss feel a responsibility to ensure that the women who rely on these shelters are not endangered by lack of funding.
"One of the main reasons we are doing this is to support the efforts of several activists who are jumping in because the competent bodies have failed at providing sufficient and adequate funding for the year 2019," she said.
"We also see this as a duty, in this time where support is lacking, to contribute and help in any way that we can. Thus, we are collecting temporary, emergency funding, so that domestic violence victims do not end up on the streets, or have to return to the perpetrators."