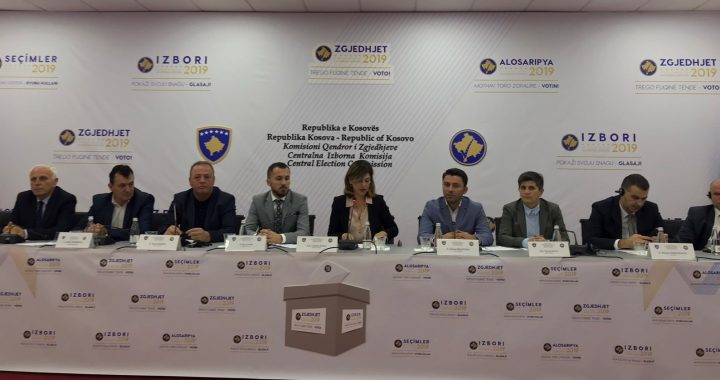 Kosovo Elections Commission meeting on Thursday. Photo: BIRN.
A month after parliamentary elections were held on October 6, the Kosovo Election Commision announced the final results, which see Vetevendosje receiving the most votes for the first time in the party's history.
In a press conference on Thursday morning, the head of Kosovo's Central Election Commission, Valdete Daka, announced the final results of October's parliamentary elections and the parties that will fill the 120 seats at the Kosovo Assembly.
According to the final results, Vetevendosje won the most votes during the election, receiving more than 220,000 and winning 32 seats at the Kosovo Assembly. The Democratic League of Kosovo, LDK, came second with around 206,000 votes, winning 29 seats.
The Democratic Party of Kosovo, PDK, came third for the first time in its 19-year history after receiving 178,000 votes; 25 MPs will represent the party in the legislative body in the upcoming mandate. The coalition of the Alliance for the Future of Kosovo, AAK, and the Social Democratic Party, PSD, gained almost 97,000 votes and will have 14 seats in the next mandate.
Lista Srpska dominated among Kosovo Serb parties, winning 57,000 votes and taking all ten seats reserved for Kosovo Serb politicians in the Assembly.
The coalition of NISMA and the New Kosovo Alliance, AKR, both of whom were part of the outgoing governmental coalition led by Ramush Haradinaj, failed to pass the threshold of five per cent required to win any seats in the Assembly, reaching only 4.9 per cent, around 42,000 votes in total.
"Over the next 24 hours, the parties and coalitions will have the chance to submit their complaints to the Election Complaints and Appeal Panel," announced Daka, who thanked all local and international monitors for assisting the electoral process.
Former opposition parties Vetevendosje and LDK have already begun discussions to negotiate the formation of the next government. According to Vetevendosje leader Albin Kurti, the deal is expected to be finalized by the end of November.