Planned Prishtina-Durrës railway project aims to connect Kosovo to major European transport corridors – and is described as having geo-political as well as economic importance.
Kosovo's Minister of Infrastructure, Spatial Planning and Transport, Liburn Aliu, on Thursday presented the project to build a railway line between Kosovo and Albania, linking the  Kosovo capital of Prishtina to Durrës on the Adriatic.
Aliu said construction of this railway will make Kosovo an important link for the distribution of goods, connecting it further to the region and elsewhere by rail. "This project will connect Kosovo to the main [transport] pan-European corridors," Aliu said.
The Minister said that the project had been presented in Brussels to obtain funding for its implementation. He said the European Union was willing to help Kosovo with funds from the Instrument for Pre-Accession Assistance, IPA.
Aliu said the three pan-European railway corridors operating in the region all bypass Kosovo. But, with the construction of the Prishtina-Durres railway line, Kosovo would become an important connecting point between these corridors.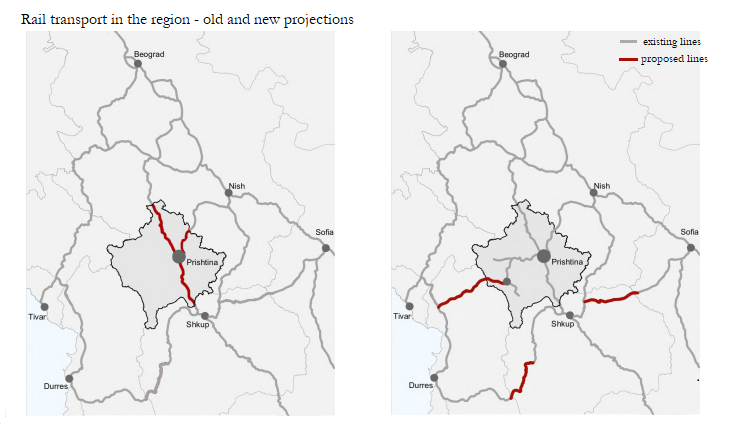 This project is a result of the agreement signed between the two countries on November 26 this year in Elbasan, where the seventh annual meeting between the governments of Kosovo and Albania took place.
Kosovo has so far allocated 1 million euros for the feasibility project for the first phase, based on assumptions that it would cost that much. Aliu said the feasibility project will also include a Land Port [Porti Tokësor] .
"This project is getting on its way and we are at the stage when we can draft a plan, which will be done quickly, and will give us clear timelines and costs for the project," he said.
One of the possible routes of this railway will  be the corridor through the Drini Valley, which connects Shkodra in northern Albania with Gjakova in western Kosovo and then Prishtina.
According to Aliu, a Prishtina-Durrës railway will be a very important corridor for the distribution of goods from the Port of Durrës and of Tivar.
For the Albania and Kosovo governments, the planned Durrës-Prishtina railway line has geo-political importance as well, not only economic.
Prime Minister Albin Kurti on November 26 stated that the Durrës-Prishtina railway line would be "of economic as well as geopolitical importance, as it helps the region, our neighbours, with whom we have a common past, but who we will also share the future with".
In addition to the agreement on the Durrës-Prishtina railway, 12 other agreements were signed at the Elbasan meeting, which have to do with facilitating the free movement of people on both sides of the border, obtaining residence and work permits, opening a new border crossing at Shishtavec-Kukës, and mutual shortening of procedures for the recognition of diplomas and scientific degrees.